Phra Somdej amulets made by great master monks such as Luang Por Nak and Luang Por Hin of the royal Wat Rakang Kositaram temple in Bangkok contain fragments of original amulets made by Somdej Toh (2331–2415 BE / 1788–1872 CE), one of Thailand's most revered Buddhist monks. Most of Somdej Toh's amulets, however, are all in the hands of the elite private collectors, who often paid thousands of dollars for these historically and spiritually valuable works of Thai Buddhist art. Therefore, people started looking for cheaper alternatives, which lead them to the sacred items of succeeding guru masters in Somdej Toh's lineage; i.e., Luang Por Nak and Luang Por Hin.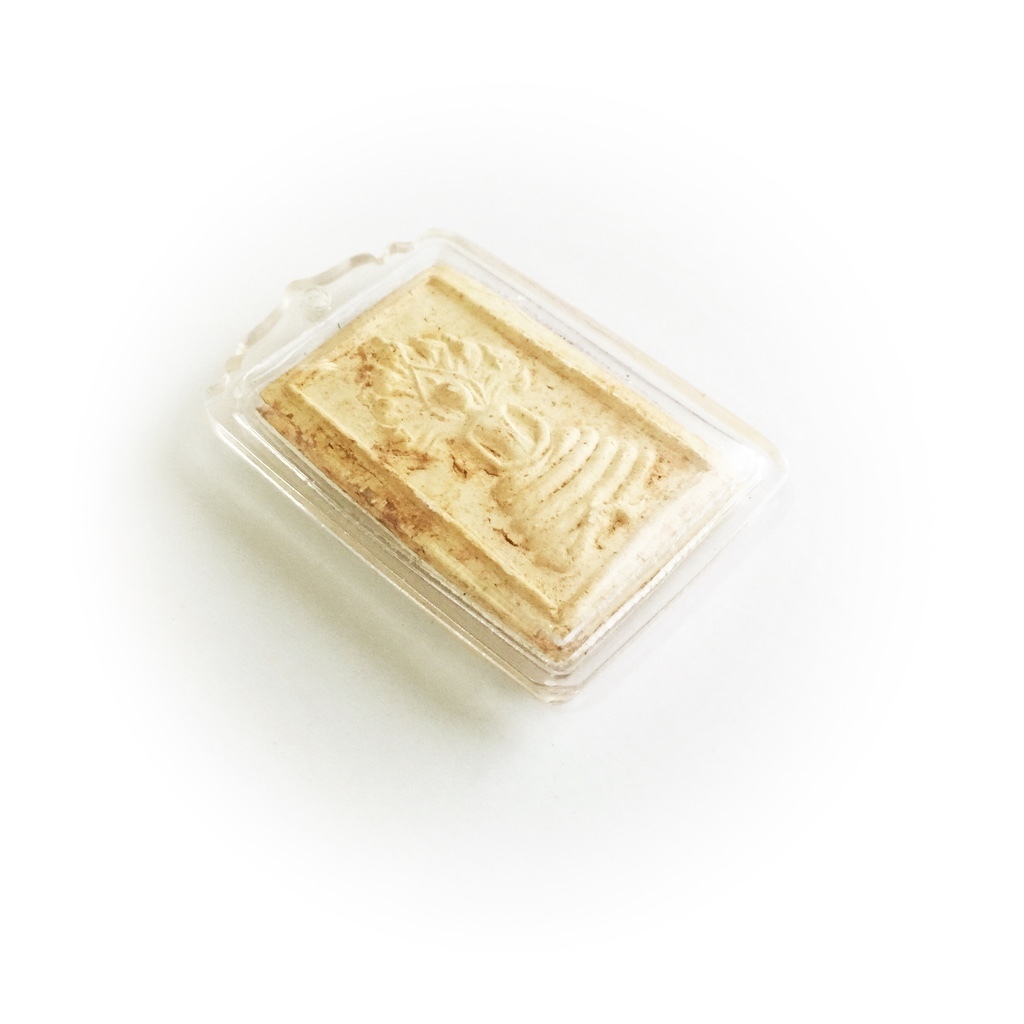 This classic Thai amulet was made and blessed in the auspicious year 2500 BE (1957 CE) of the Buddhist calendar. In celebration of twenty-five centuries Buddhism, Wat Rakang issued a special edition of amulets to promote the Buddha's teachings. Along with several kinds of traditional herbs and flower pollens, a considerable amount of small pieces of old and broken Somdej amulets were used to create a powerful mixture of sacred powder ingredients. Renown Buddhist monks from all over the country traveled to Wat Rakang to join the consecration ritual. Thus, a mass empowerment session was performed on this special occasion, thereby increasing the amulets' magical quality significantly.
The front face of the amulet features an image of the Buddha sitting in meditation posture. A giant mythical serpent (Sanskrit: nāga; Thai: nak) has wrapped its coil around the Buddha's meditation seat, while its seven-headed hood stretches out over the body of the Enlightened One. Thus, this particular scene depicts the story in which the naga Mucilinda rises from the netherworld to protect the Buddha from the wet and stormy weather. And so, it is believed, that the Phra Somdej Nak Prok amulet will not only grant the wearer auspicious blessings of the Buddha, but also offers him or her the protection of the nagas. In this way, then, one will also be able to receive mercy and to obtain good fortune through the power of the mystical properties which Luang Por Hin embedded in the amulet.